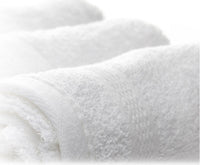 A First Class Experience
Washington Towels are considered to be the superior choice when it comes to a personal pre-moistened hand towel provider. Whether it be for a quick facial refresh at an outdoor event, a handy towel to help keep your hands clean when out and about, or even for cleaning your face after a long day; Washington Towels is the ultimate "on hand" compact and towel company that can satisfy all your needs. Our clients range from hotels, restaurants, resorts, sports facilities, and theme parks. If your company is focused on providing a premium experience to your guests, A Washington Towel will only elevate that experience and make it first-class.
Get Wholesale Pricing
The Benefits of Washington Towels

Versatility
Washington Towels are versatile in their uses. Be it, for cleaning up after a dinner at a restaurant, a quick refresh at an outdoor event or even as a way to welcome your guests, you can be assured that a Washington Towel will never disappoint.
Our towels can be heated up or chilled depending on your needs. Provide your guests with a blast of coolness or a soothing hot one!

Guests Know You Care
While Washington Towels may seem just like a simple hand towel at first glance, there is no doubt that they will appreciate the gesture and experience. The simple act of offering a refreshing pre-moistened towel may make your company their preferred choice in the future.
Washington Towels is an elegant way to rejuvenate and refresh for any event and will always leave your guests smiling and a lasting impression. Never underestimate the power of a simple pleasure!

Personalized Packaging
Get all of the benefits of Washington Towels while promoting your own brand. With personalized packaging, you will provide a consistent brand experience to your guests. Hear them rave about your company's towels!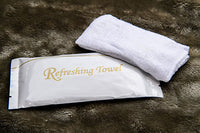 Products
Washington Towels are individually wrapped, cotton, pre-moistened, lightly scented towels which are perfect for when you need to cleanup or just refresh yourself. Our luxury towels are available pre-scented or with no scent at all. Washington Towels are environmentally friendly and biodegradable.
Get Wholesale Information
Our Product Variations
Choose between two different styles to ensure you enjoy the best possible experience. The pre-scented pre-moistened towels are our standard variety which are white, sized 8" x 8" and made from a high-quality cotton weave.
We also offer a scented Deluxe Make-Up Remover face cloth. This towel measures 8" x 8" and is made from a high-quality cotton weave. This makes it perfect for adding an elegant touch to any hotel room. No matter which style you choose, we stand behind the quality of our products. Please reach out to Washington Towels if you have any questions and we will ensure that we provide you with the best customer service possible.